Sisters in Harmony Summer Retreat
August 7–9, 2020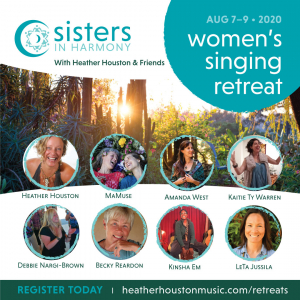 A women's singing retreat at the stunning Om Oasis Retreat Center in the Santa Cruz Mountains
Please join Heather, MaMuse, Becky Reardon, Debbie Nargi-Brown, Amanda West and Kaitie Ty Warren for a nourishing weekend of singing in the Santa Cruz Mountains.
Immerse yourself in sacred sisterhood, song, yoga, qi gong, meditation, ritual, nature, saltwater pool, hot tubs, and saunas. We'll be singing together in one big group the entire weekend! Fill your cup with songs that open your heart and uplift your spirit!
Food – Organic, locally sourced, vegetarian, gluten-free meals.
Lodging – Camping, yurts, cabins, and tree houses are available. Private beds in shared rooms and cabins.
Schedule – (Subject to change)
Friday:
1:00 – Arrival, Settle in, Free Time
5:00 – Welcome Circle
6:15 – Dinner
7:30 – 9:30 – Evening Singing Session
Saturday:
7:15 – 8:15 – Yoga or Qi Gong
8:30 – Breakfast
10:00 – 12:30 – Morning Singing Session
12:30 – Lunch and Free Time
3:00 – 5:45 – Afternoon Singing Session
5:45 – 6:15 – Silent Time
6:15 – Dinner
7:30 – 10:00 – Evening Round Robin (participants invited to share / teach songs)
Sunday:
7:15 – 8:15 – Yoga or Qi Gong
8:30 – Breakfast
10:00 – 12:30 – Closing Circle
12:30 – Lunch
Goodbyes